The Stern Star Wars Comic Edition Premium Pinball Machine comes with free delivery, 2 year warranty and we have the lowest price for the Official USA and UK version. Please note that this product has been released, and we are taking deposits now! Secure your machine for $900 now, and pay the rest of your balance on shipping.
Expected full retail value for this machine is $6500.00.
A long time ago, in a galaxy far, far away… STERN Pinball brings Star Wars back to the world of pinball! Boasting their latest in pinball technology, Star Wars allows players to experience the heart stopping battles of the first three Star Wars films in an entirely new way.
STERN Pinball's Star Wars is the perfect commemoration to 40 years of arguably the most iconic sci-fi series ever made. Being the first new Star Wars pinball machine since 1999's Star Wars: Episode 1, Star Wars by STERN revisits the classic Star Wars trilogy, and the saga of the rise of the Jedi against the conquering Galactic Empire. Star Wars' play field was designed by pinball legend Steve Ritchie, who was responsible for 2013's much sought-after Star Trek, and most recently Game of Thrones. The game also includes a high definition LCD screen to replace the standard dot-matrix display often found on pinball machines.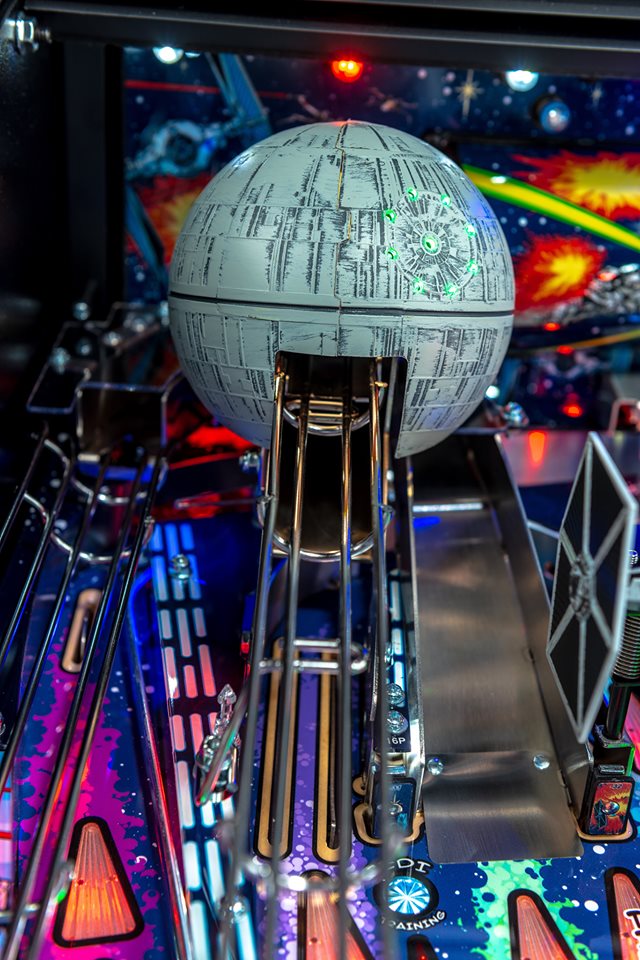 The Star Wars universe is one of the most recognizable and well known sci-fi adventures of all time, and combined with one of pinball's most beloved designers puts forward a machine that's sure to be an enduring classic for years to come. This version of Star Wars has even been given a beautiful new artwork package drawn by famed comic illustrator Randy Martinez, who has been working on the Star Wars brand since 1999.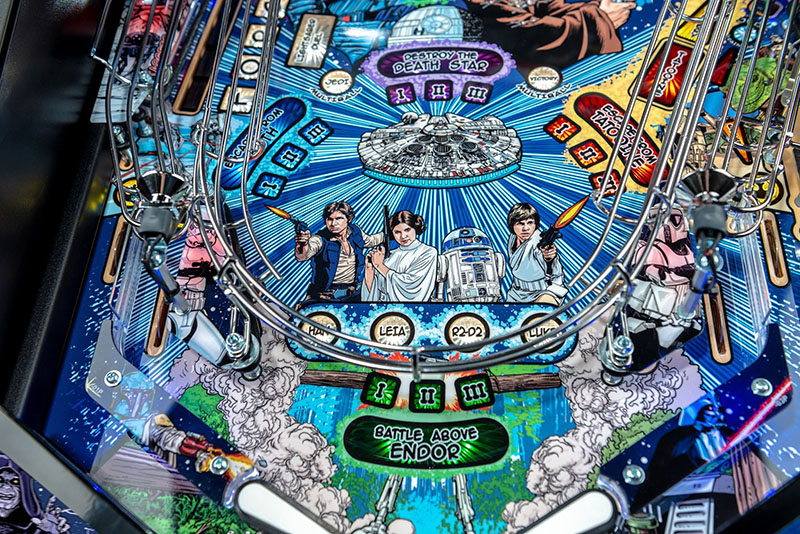 Stern's Star Wars Pinball is available in three versions – The Pro Edition and the Premium Edition model. A sheet comparing the gameplay features on these models can be read here.
(The Comic Edition is not available as an LE)
On Display in Our Showroom:
If you fancy checking out a new pinball machine, we have a fantastic selection on display in our showroom, set to free play, so you can enjoy a few games to get a feel for them for yourself.
Even if we don't have the exact game you are looking for set up in the showroom, we can talk you through all the options available to you, whether you're a pinball fanatic or looking for that single table to kickstart your own collection.
We recommend phoning our showrooms ahead of your visit so we can give you a rundown of every machine we currently have on display to try.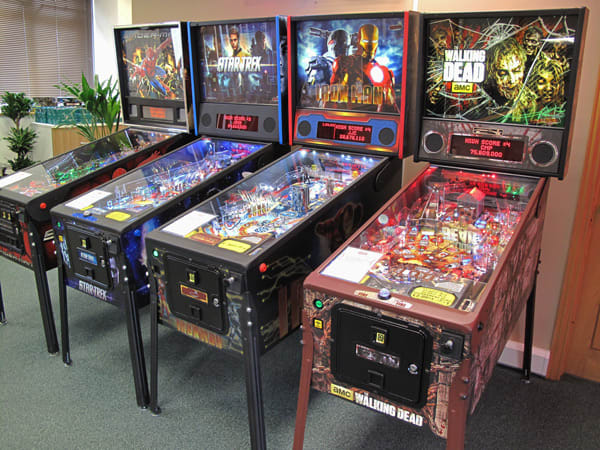 We are keen pinball enthusiasts and have experience of owning and playing a wide variety of pinball games. If you are looking for high quality impartial advice it is definitely worth paying us a visit. There's nothing like playing a few games to get a real appreciation of how good a game really is.
Stern Star Wars Comic Edition Premium Measurements:
| | |
| --- | --- |
| Dimensions | |
| Height: | 75 1/2″ |
| Width: | 27″ |
| Length: | 55″ |
| Weight: | 250lbs |
Please ensure you fully check that a pinball of this size will fit into your intended location.
Condition:
This pinball machine has been fully reconditioned to a brilliant condition and has been through a thorough inspection to ensure that it plays perfectly with no errors. The original artwork has been protected by the original mylar. The machine also truly benefits by having a complete LED upgrade.
Warranty:
Home Use:
After our 2 year warranty has expired we will continue to offer you complete support for any problems you have, either over the phone or by email, and can provide a chargeable engineer call out should it be required. Whatever happens, we will be able to look after you and your pinball machine.
Pinball machines are complicated items, which don't like being moved about, nor do they like the cold or humidity. Therefore, if you chose to move the pinball machine from where we originally installed it, or it is stored in a cold or damp location, our warranty will become null and void. We won't be able to supply any parts for your machine free of charge if it has been accidentally damaged or you have tampered with it in any way.
Commercial Use:
We offer the same warranty as detailed above for our home customers, but for 1 year.
Availability:
Star Wars Comic Edition Premium is currently available for Pre-Order, and we are now taking deposits in order to secure orders.
Please call us on +1628-225-2444 for more details.
Please note that the price may be subject to change due to currency fluctuations; please call us on +1628-225-2444 for a quote.
Free Delivery & Installation (worth $100):
Delivery & Installation is free to most locations within mainland US.
However for locations further north than Glasgow or in Cornwall there may be an additional charge depending upon your exact location. Please call our friendly customer service team on +1628-225-2444 for a quote.
Delivery and Installation will be made to the ground floor room of your choice, provided we can park our delivery van near to your property, have easy access and no steps or steep slopes to negotiate.
Important: Please check the measurements for the pinball machine above and ensure it will fit through your doorways.
Free friendly advice: 
You can call us free on +1628-225-2444 and speak to a member of our expert team who will be able to answer any questions you might have.