The Signature Chester Oak Pool Dining Table comes with Free Delivery and Installation, over $250 of Free Accessories, plus we are the exclusive retailers for this table.
The Chester is an English pool table using 2" red and yellow balls as standard, with a one piece slate bed, available in 6ft and 7ft sizes.
Through our experience of selling pool tables over many years, we've had a lot of questions and feedback from customers on the features they're looking for. Having taken this feedback on board, we've created the Signature range of tables, which caters to all needs and desires, to create a range of pool tables that are simply the best on the market.
The entire Signature range has been designed and hand-built by craftsmen, using the best materials and fine workmanship that comes from years of experience.
What makes the Chester Pool Table special?
This table is part of our Signature range of luxury pool tables, created in conjunction with Rasson, one of the greatest manufacturers of pool tables in the world. Rasson create tables for the Mosconi Cup which are renowned for their quality, standard of play and robust construction, as well as their beautiful aesthetics.
Solid Wood Construction – This table is made either from solid oak or solid rubber wood with oak veneer, giving it a robust and long-lasting frame as well as a fantastic finish.
Ball Return – This table comes equipped with a ball return mechanism, bringing the balls back to a slot at the end of the table for easy replacing.
Ethically Sourced Wood – This model is constructed from ethically sourced wood, meaning that trees are re-planted after logging to ensure healthy, sustainable forests.
Computer Slate Levelling – the table slate is levelled using computer-controlled engineering techniques, ensuring it is absolutely flat and level and will provide a smooth roll in every direction. Tolerance for imperfection is less than 0.02mm per metre, offering an incredible level of precision and giving you a tournament-grade slate.
Tournament Grade Cushions – We fit this model with cushion rubber which is made to the highest standard, so that when you're playing on your home table you get the same experience that you would from a competition model.
Smart Cloth – This table is fitted with your choice of Hainsworth Smart Cloth colours, a performance cloth that delivers big on performance and longevity with a fantastic napped surface. This would usually cost extra to be fitted to a pool table but is supplied at no extra cost with these Signature tables.
Dining Tops – Dining tops are usually supplied at extra cost by other manufacturers of luxury pool tables, but they are supplied at no extra cost on our luxury Signature pool tables.
Free Premium Accessory Pack (worth $250):
We will supply your new pool table with the below free accessory pack:
Venom Table Tennis Tops
Want even more use out of your table? Add the Venom Table Tennis Tops to your order to allow you to convert your pool table into a full size table tennis table in seconds. These tops include bats, balls and a net to get you started right away.
You can get these tops for only $199, saving $50 off from buying separately.
On Display in Our Showroom:
If you fancy checking out one of these fantastic Signature Pool Tables in the flesh, then pop into our showroom in Bristol.
We have the Signature Chester in oak, fitted with a red Smart Cloth as well as a huge range of other tables.
We have plenty of fantastic games room products on display, to whet your appetite for future purchases.
Customise your choice of Pool Table from these options:
Type of Pool Game:
English Pool – played with 2″ Reds and Yellows. You can upgrade to 2″ Spots and Stripes if you wish.
Cabinet Finish:
Choose from:
Size:
This table is available in 6ft and 7ft sizes.
This provides all the sizing info you should need for your choice of table type.
If you need further advice please call our friendly team of experts on +1628-225-2444.
| | | |
| --- | --- | --- |
| Dimensions | 6ft | 7ft |
| Height: | 0.835m | 0.835m |
| Width: | 1.086m | 1.197m |
| Length: | 1.886m | 2.113m |
| Playing area: | 1.6m x 0.8m | 1.829m x 0.914m |
| Slate Thickness: | 19mm | 19mm |
| Weight: | 217kgs | 217kgs |
Cloth colours:
Match Cloth – for English Pool:
Hainsworth® Match is the tournament cloth that delivers the professional playing experience. Tightly woven from the finest yarns, Match provides spectacular speed and cue ball control with high levels of durability.
The cloth of ACBS, Match Room Snooker, SPA, BAPTO, EUKPF, the World Pool Championships, French Grand National, British Open and many other tournaments, Hainsworth Match is the tournament cloth.

Smart Cloth:
Your new Signature pool table will come fitted with your choice of Smart Cloth from the below list. The cloths are of the highest quality, and are manufactured by Hainsworth. The type of cloth we recommend for English pool is Smart cloth. This is a performance cloth that delivers big on value and longevity with a fantastic napped surface.
You can download the swatch card by clicking the link below. If you would like us to post you a swatch card just give our friendly sales team a call on +1628-225-2444.
Choice of Pool Balls:
This pool table is supplied with Aramith balls as standard. Please make your choice from the selection below:
Aramith Reds and Yellows – as used in many tournaments, 2″ size reds and yellows, with regulation size 1 7/8″ size cue ball.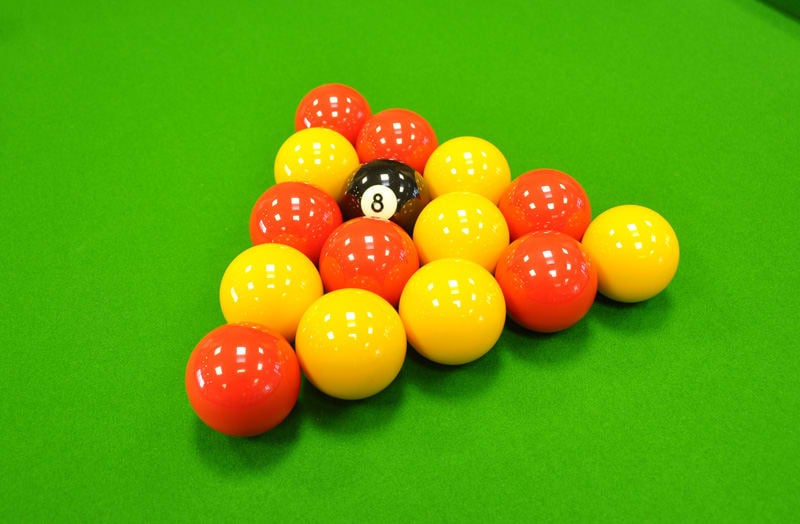 Aramith Spots and Stripes – tournament grade balls, supplied numbered from 1 to 15, allowing you to play either 8 Ball or 9 Ball pool using the same set of balls. 2″ size spots and stripes, with regulation size 1 7/8″ size cue ball.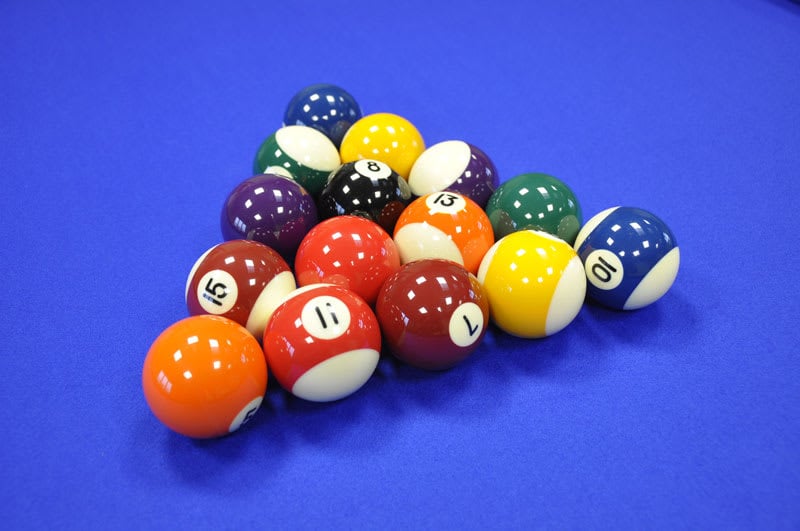 Add Snooker Balls:
You may wish to add a set of snooker balls, to be able to get an extra game from your pool table.
Standard Snooker Balls – 2″ size snooker balls with 10 reds, with 2″ size cue ball.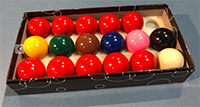 Aramith Snooker Balls – 2″ tournament grade size snooker balls with 10 reds, with 2″ size cue ball.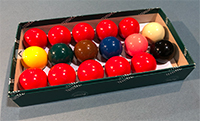 Dining Top Storage: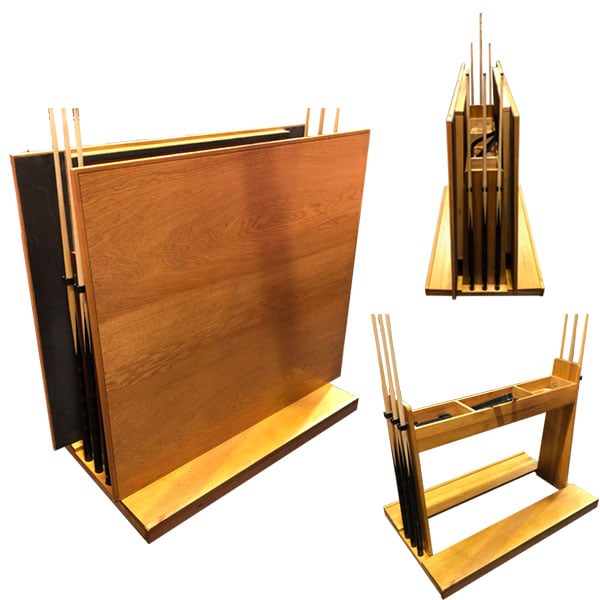 Your Signature Pool Table can be accompanied by our luxury Dining Top Storage, finished in oak. This storage will hold your dining tops whilst not in use and protect them from scratches, knocks and incidental damage. The storage also provides space for accessories such as cues, brushes, chalk, triangles and any other small accessories you wish to store.
The storage is also on wheels, allowing for ease of moving and storage.
Benches: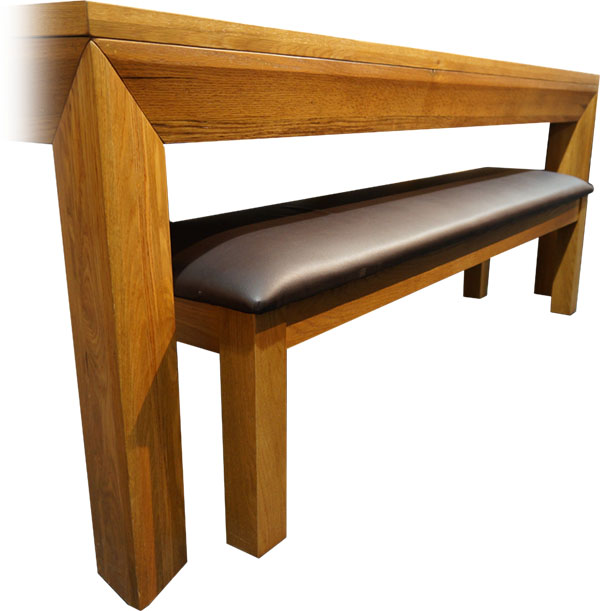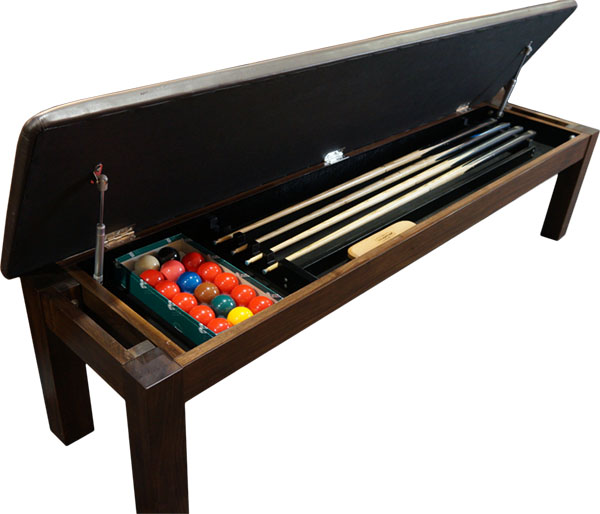 (Benches shown in Oak and Walnut respectively. Signature Anderson Pool Dining Table in Oak shown for illustration purposes)
To complement your new Signature Luxury Pool Table, you can add benches for seating while using the table for dining, working or anything else.
Our benches are available in Oak or Walnut, and can be supplied with storage built-in under the seat (to keep your pool accessories safe between games). The benches are upholstered in a cushioned, brown faux leather for comfort. This unfortunately cannot be changed.
Please select the options you require from the drop-down menus at the right of the screen.
Warranty:
As the US's leading luxury pool table retailer, we are delighted to offer a Lifetime Warranty with all of our pool tables retailing for more than $1,997 (including VAT). This applies to all the top brands that we sell, and includes every model. Please click on the link below for full terms and conditions.
Availability:
Usually these pool tables are held in stock and can be delivered in 1 to 2 weeks depending on availability of the cloth from from the manufacturer, your location and availability. If stock is not available then it will be made to order which will take approximately 2 to 4 weeks.
If you would like to check the availability of your choice of table, please call our expert team on +1628-225-2444 and we will be happy to advise on time frames.
Free Delivery and Installation (worth $200):
Delivery and installation are free to most locations within mainland US & UK.
However for locations further  in remote  ares there may be an additional charge depending upon your exact location. Please call our friendly customer service team on +1628-225-2444 for a quote.
The table will be professionally handled by one of our fully insured specialist two man delivery teams. It will be placed in a ground floor room of your choice, and all packaging removed.
Our team will professionally level the table and show you how to do so yourself, as this is something you will need to do throughout the life of your pool table. They have years of experience, and will be able to answer any questions about the care and use of your table to ensure you get the very best from your new purchase. You will be left with a perfectly installed table, ready to play the first frame of many.
Upstairs, downstairs, and other hard to reach locations:
It is possible to deliver and install the table to a location with difficult access – loft conversions, basements, upstairs, downstairs, up and down steep slopes etc – but this will be at an extra cost.
We are experts at installing tables where many other retailers would not dare to go. Please call us on +1628-225-2444 to discuss your exact requirements and we will happily provide you with a quote.
Free friendly advice: 
You can call us free on +1628-225-2444 and speak to a member of our expert team who will be able to answer any questions you might have.