The Signature Scudetto Foosball Table comes with Free Delivery and accessories. The Signature Scudetto Football Table has a classic look to match its sturdy construction; crafted from poplar and birch plywood and coated with resistant plastic laminate, the Scudetto looks as good as it plays.
Made with a high-quality protective tempered glass top, the Scudetto is a great football table in any location. Telescopic rods with 10mm and 16mm bars keep the table safe for players of all ages, and the sculpted players – made in Moplen plastic – are hardy and will last you for many years to come.With its integrated coin mechanism, the Scudetto foosball table can be used for paid play or freeplay at your discretion.
The Scudetto makes an absolutely fantastic addition to any games or leisure room. This beautiful football table will last for a lifetime and give you endless hours of joy.
On Display in Our Showroom: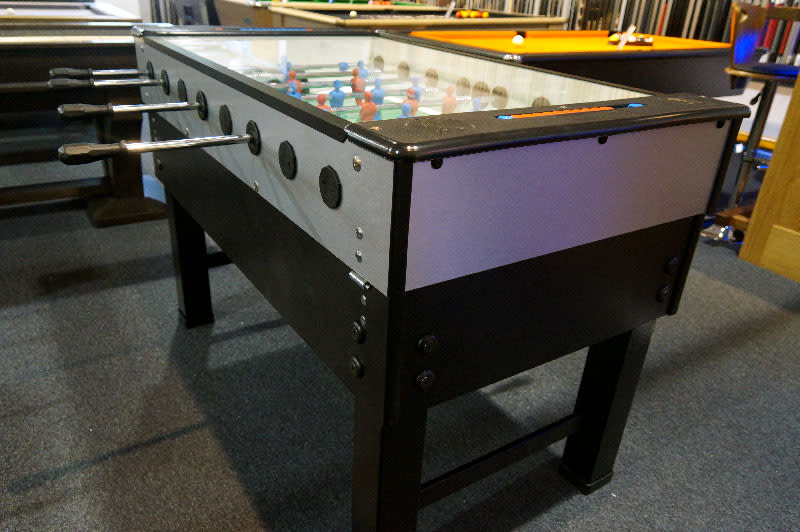 If you fancy checking out one of these fantastic Signature Scudetto Football Tables in the flesh, then pop into our showroom in Bristol, when you have a chance.
We have ours on display and ready to play, and our staff will be happy to have a game or two with you.
Key Features:
Legs: 90mm square metal legs coated with epoxy resin
Handles: Black plastic
Players: Red/blue players in Moplen plastic moulded onto the bars
5mm tempered glass for ball retention and noise reduction
Balls: 10 white balls included
Integrated abacus scorer
Coin mechanism built in as standard
Guarantee on all parts
Coin Mechanism:
The Signature Scudetto comes fitted with a coin mechanism. Please note that this coin mechanism will be set to 50p as standard. This can be changed to freeplay. If you require another denomination of coin then please specify this clearly upon order.
Accessories:
Balls: 10 white balls included
Warranty:
These fantastic tables come backed by the manufacturer's guarantee.
Please note that if used in a commercial environment, we offer a 30 day warranty on this product.
| | |
| --- | --- |
| Dimensions | |
| Height: | 94cm |
| Width (including handles): | 114cm |
| Length: | 149cm |
| Weight: | 91kg |
Availability:
The Scudetto foosball table are held in stock and can be delivered in 1-2 weeks depending on location and customer availability.
If you would like to check the availability of your choice of table, please call our expert team on +1628-225-2444 and we will be happy to advise on timeframes.
Please note: all such items are handmade by craftsmen, therefore all dates for availability are approximations.
Delivery:
Delivery is free to most locations within mainland US.
However for locations further north than Glasgow or in Cornwall there may be an additional charge depending upon your exact location. Please call our friendly customer service team on +1628-225-2444 for a quote.
Free friendly advice: 
You can call us free on +1628-225-2444 and speak to a member of our expert team who will be able to answer any questions you might have.